Other sign pages currently under construction
Welcome to Allied Signs Inc., owned and operated by Anthony and Pamela Garcia of Sedalia, Missouri. We have 37 years experience with fabrication, installation and art work.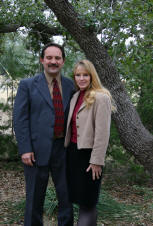 Our mission is to provide our clients a affordable yet quality hand crafted sign. Anthony will follow thru with you on the entire project, from start to finish. We feel our craftsmanship approach will get you a product that fits your exact needs. We prefer this approach to a salesman representing a large production shop, used by so many of today's sign shops.
Signs are one of the most effective means of communicating to your current and future customers. Signs do not just provide information about your business. They serve as advertising and marketing tools that symbolize and directly reflect your corporate image and business focus. Allied Signs ensures your business sign projects will accurately communicate your corporate identity, image and integrity to your customer.
Anthony Garcia - President
Pamela Garcia - Secretary